Pausing or Unpausing a campaign
Pausing or Unpausing a campaign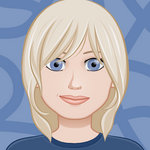 Updated by Christy Cook
Pausing a campaign puts the campaign in a "paused" status and removes it from your active campaigns list. A campaign will remain in a paused/disabled status until you manually enable it again.
Warning: When a campaign is disabled, its assets, automations, and lead generation activities are automatically disabled and paused as well.
Pause a campaign
To pause a campaign, follow these steps:
Navigate to the campaign you want to pause.
Click on Campaign Settings.
Scroll down to the Advanced Options section at the bottom of the page.
Click on Pause Campaign, and then select Save Changes.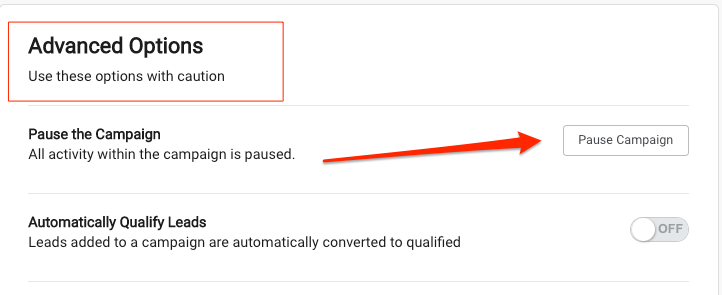 If a campaign has no acitivity for > 90 days the system will automatically pause it and put it in your Archived list.
Activate a paused or archived campaign
Follow these steps:
Navigate to your campaigns dashboard: Campaigns > Campaigns or click on the Campaigns button.
Click on the hamburger menu next to the word Campaigns and select Paused or Archived from the list. Paused is if you paused the campaign, Archive is if the system automatically paused it for you based on inactivity.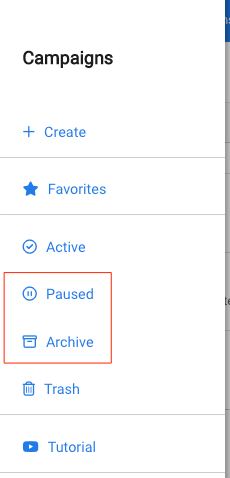 Click on the campaign you want to activate from the list and then click on Activate Campaign.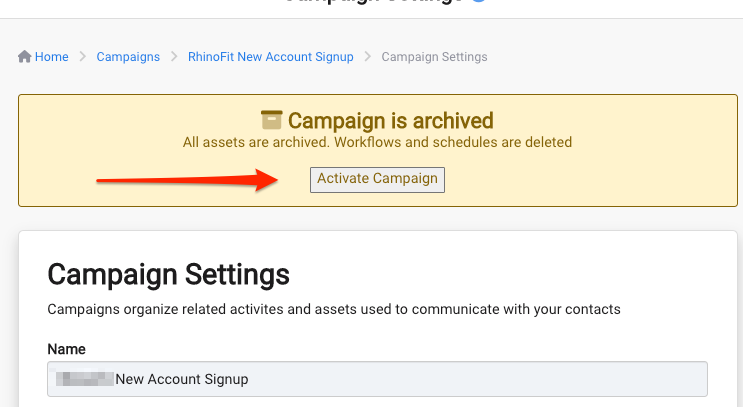 Then select the green Save & Close or Save Changes button in the bottom right.
Navigate to your Active campaigns and you will see the unpaused campaign in your active list.