Install DailyStory WordPress Plugin
Install DailyStory WordPress Plugin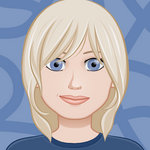 Updated by Christy Cook
Installing the DailyStory WordPress plugin is simple!
All you need is administrative rights to your WordPress site, an active DailyStory account ... and about 10 minutes.
Steps to Install the WordPress Plugin
Log into your WordPress website using an account that has access to the admin area. You can also find the login screen by typing /wp-admin/ at the end of your website URL.
Once you are in your WordPress admin area, click the menu option on the left that says Plugins.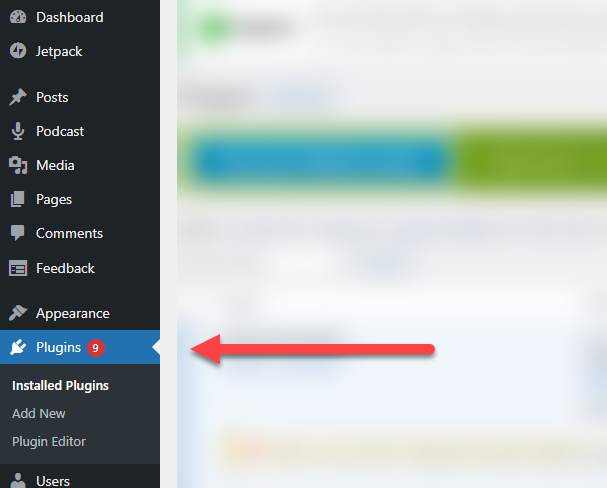 Next, click Add New in the Plugins menu on the left. Type DailyStory into the Search pluginstext box. This will return a list of any plugins that have the word "DailyStory." It will also do a check to ensure that the plugin is compatible with the version of WordPress you are running.
The DailyStory plugin should look similar to this: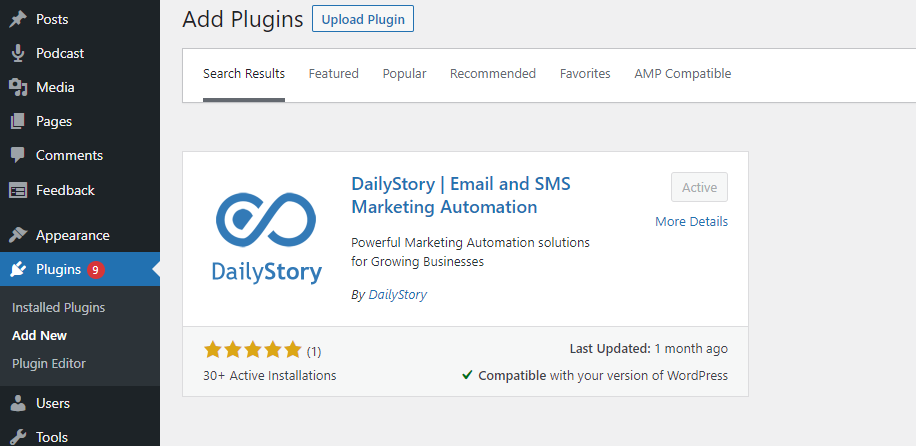 Next, click theInstall Nowbutton.
Enter your DailyStory ID and DailyStory Site URL (see below steps for finding your Site ID and URL).
Click Save Settings. That's it! The plugin is now active, and DailyStory will receive updates from your website. Next, check out the WordPress Shortcodes that the plugin enables.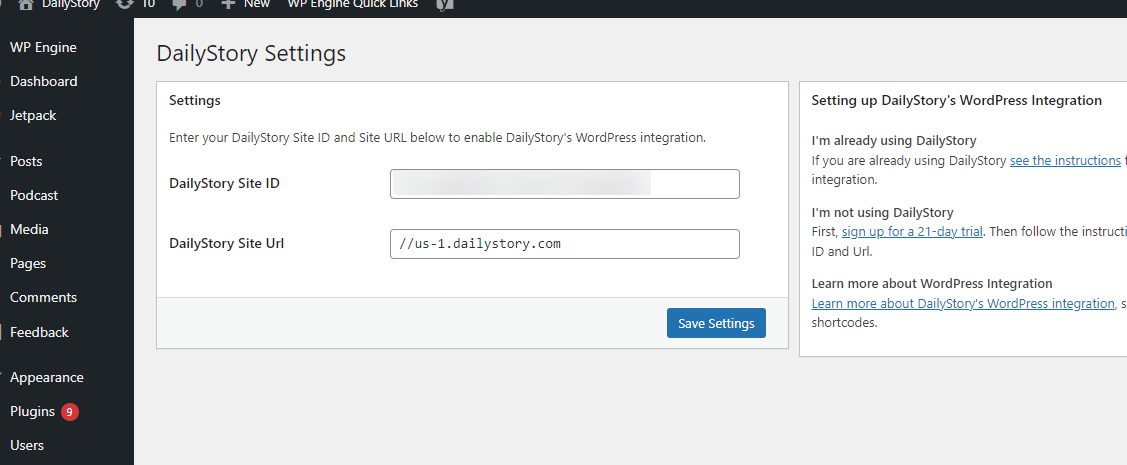 Locating your DailyStory Site ID and URL
The DailyStory Site ID is a unique id that lets DailyStory know who you are. You'll see it used any time you are performing any integration or APIs calls for DailyStory.
The DailyStory Site URL is the web address associated with your instance of DailyStory. For example, https://us-1.dailystory.com.
To find your Site ID and URL, log into your DailyStory app, and navigate to Account Settings > Website.
Copy the values shown in the Site ID and Site URL text boxes to complete your plugin setup and activation.