Understanding Text Messaging Costs
Understanding Text Messaging Costs
Updated by Rob Howard
Text Message, unlike emails which are relatively inexpensive, telecommunication companies charge per-text message (160 characters). It's important to understand how this cost impacts you.
The cost to send a text message through the DailyStory platform varies per-message depending upon your license plan. This includes all additional carrier fees.
Important: the costs above reflect costs for the United States. If you are sending messages outside of the United States your costs will be different.
DailyStory additionally supports multimedia text messages (MMS) which allow for images to be included with your text message. However, MMS also is billed at a higher cost by the phone carriers.
Important: an MMS text message is about 3x the cost of a single SMS message.
You can review a tutorial on SMS costs or keep scrolling for a step-by-step:
Character count and segments
A Text Message may contain up to 160 characters. If the message length exceeds 160 characters, the message is still delivered as a single message to most modern mobile devices. However, if the message exceeds 160 characters it is counted as multiple messages (even though it is delivered to the device as one message).
For example, this message contains 315 characters and requires 3 message segments: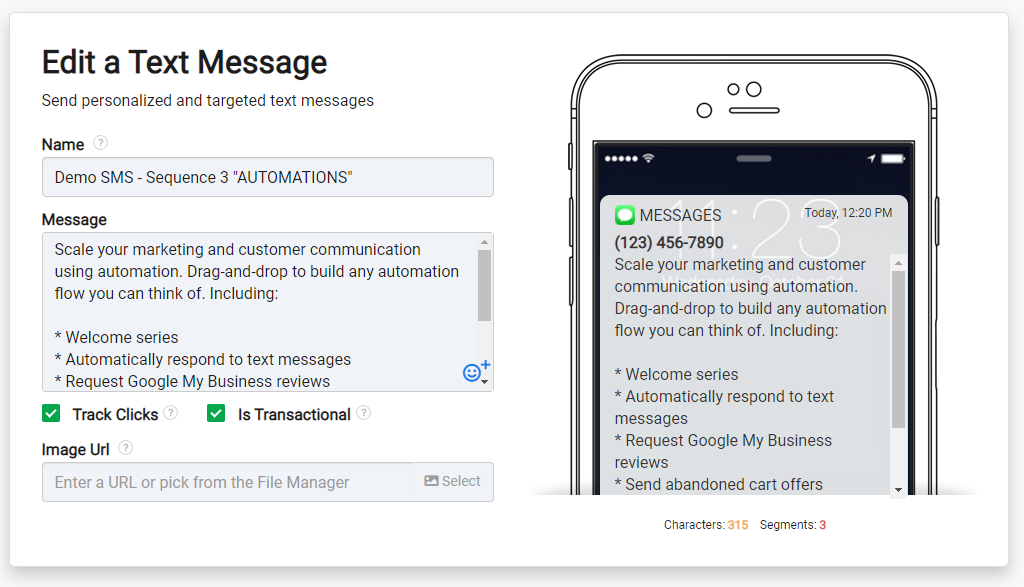 DailyStory provides some helpful information below the message for the approximate character count and number of segments required to send the message. However, is provided as guidance only as there are a variety of factors that contribute to message size: personalization, custom URLs, and more.
Text Message Cost Calculator
To help you manage the cost of your text messages, DailyStory provides a text message cost calculator: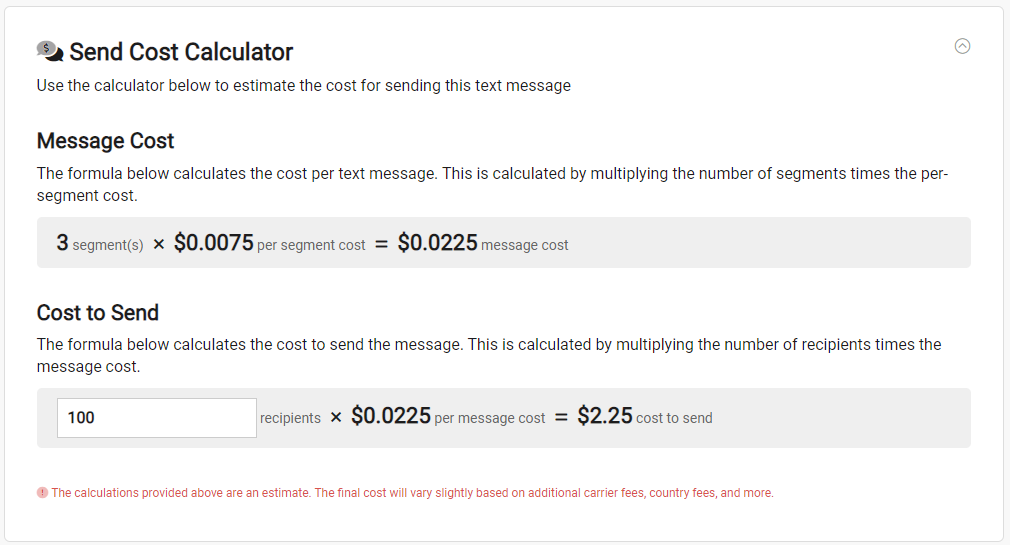 You can use this text message cost calculator to calculate the cost to send a given text message based on the number of segments and total recipients.
Using non-standard characters
While the character counts for a Text Message is limited to 160 characters, not all characters are created equal.
For example, because emojis (❤️, 😍,✨, etc.) use special character sets, a single emoji may require multiple segments to send the message.
How you are billed for Text Messages
DailyStory includes numerous tools and reports to clearly help our customer to manage the cost of their text message campaign.
Multiple usage reports allow you to see real-time costs as you are sending messages along with calculators to help you plan your campaign budget.
Text Message Usage Report
The Text Message Usage Report is accessed from Reports > Text Messages and then click the Usage tab: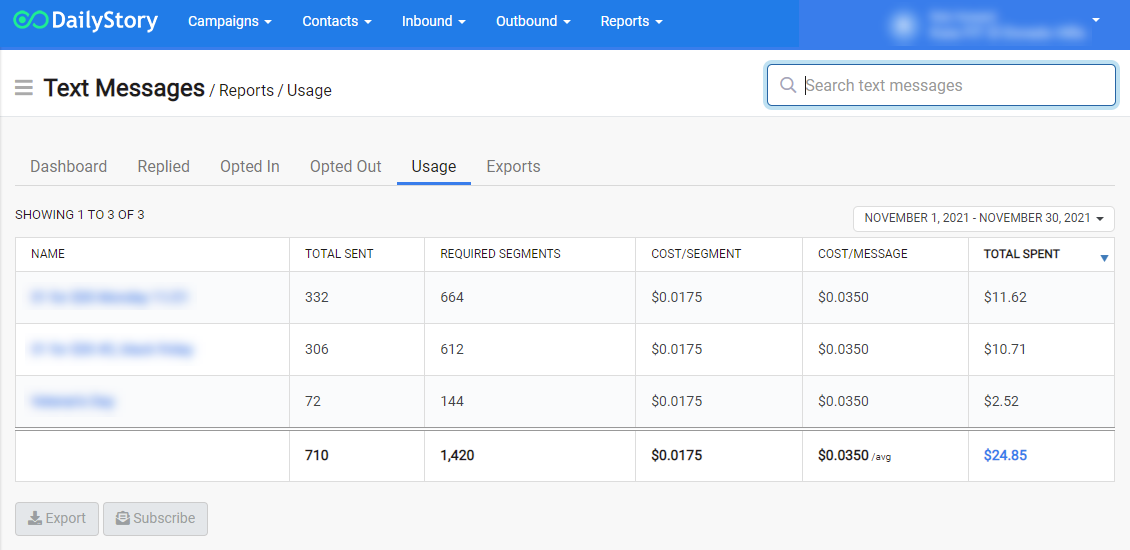 This report shows the messages sent for the specified time range, the number of recipients (total sent), the required segments, cost per-segment, and cost per-message, and total spent.
Buy credits or set up automatic billing
You can choose to buy credits or select an automatic billing plan (recommended).
To enable automatic billing navigate to Account Settings > Usage and Enable Automatic Billing: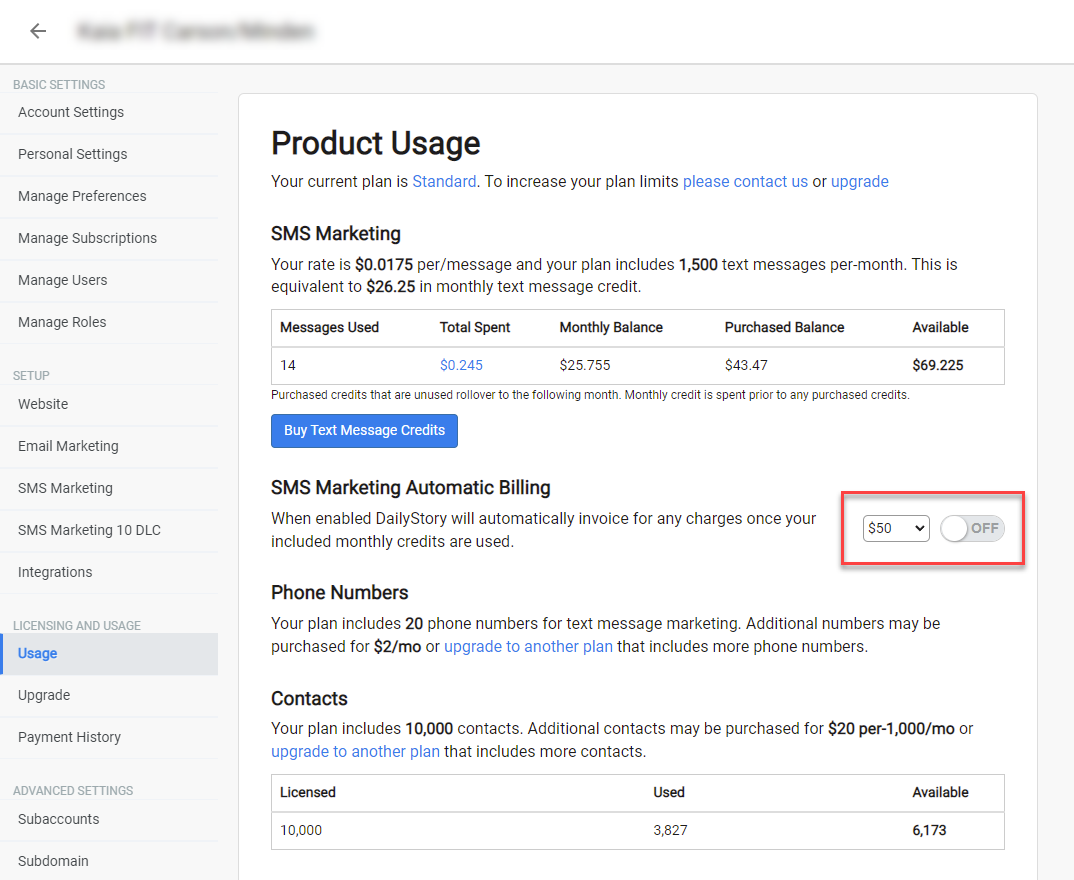 If you are on an automatic billing plan we automatically charge your credit card when your balance drops below $0. The amount is $50 plus the balance below $0. This service runs every 10 minutes and for a large send it is possible to have multiple charges of $50+ on the same day.
What happens when I run out of text message credits?
DailyStory will send messages as long as there are funds in your account. If there are no funds, the system stops sending messages.
How does Automatic Billing work?
When automatic billing is enabled DailyStory will send messages and automatically top up your text message credits by $50 when the balance drops below zero.
For example, if messages were sent and automatic billing is enabled and the balance dropped below $0 to ($6.40). DailyStory would charge your credit card $56.40 to bring your text message credit balance to $50.
What happens to unused credits I purchased?
Purchased credits rollover month-to-month. Included credits do not. When DailyStory uses your text message credits to send messages your included credits are always "spent" first. For example, if you used all your credits for May and had a purchased credit balance of $29.33. On June 1 your available balance would be $29.33 + your included monthly credit amount. For example, on the Standard plan includes $26.25 of monthly text message credit. On June 1 this would be $29.33 + $26.25 = $55.58.
Do monthly credits roll over?
The monthly credits included with your account do not roll over.