Updated by Rob Howard
When creating and editing emails you may occasionally find that you inadvertently saved an old version or lost some edits made previously - this can happen if multiple people are editing the same email at the same time.
If you need to revert to a previously saved version of the email. From either the email options in the HTML or Designer or on the options menu, select Revisions: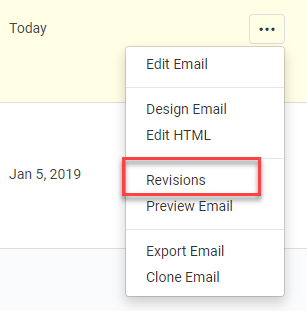 This will open the Manage Email Revisions screen: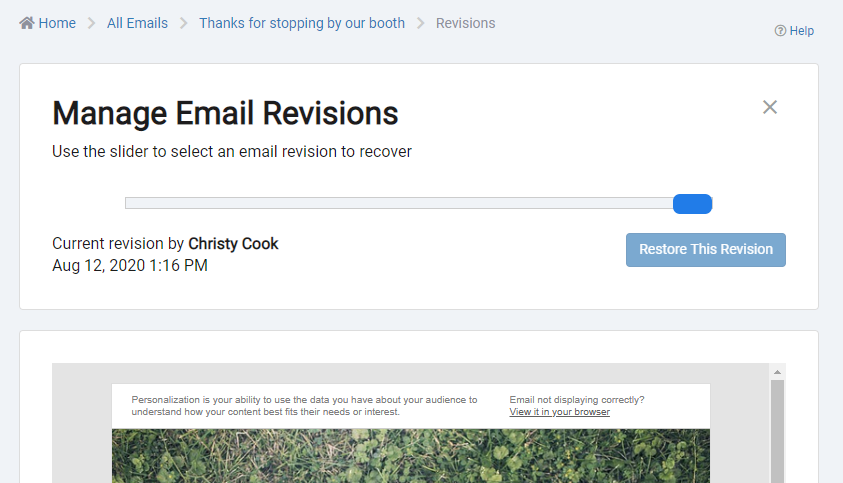 In this screen you are shown a live preview of your email as well as a slider that enables you to go backwards in your revision history to a previous email. For example, moving the slider back to a revision written by Mark on May 23rd:

When a previous revision is selected, the Restore This Revision button becomes active. Clicking this button bring up a warning popup noting that if this revision is restored it will become the new version:

Note revisions are never lost. For example, if you save the email 3 times with changes and then revert back to version 2. Version 3 will remain in your history too.
What is reverted when a revision is restored?
When a revision is restored the subject, CSS, HTML, plain text and AMP versions of the email are all reverted.