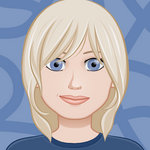 Updated by Christy Cook
We never want to see a customer have to leave, but we know there are circumstances for the need to cancel your account. If you decide to cancel, we'll help you with any transition from DailyStory including making sure you receive all of your data.
Please keep in mind that all standard account levels have a 30 day notice. This means we will close out your account 30 days after we are given notice and if there is a billing cycle in that 30 days, you will see one final charge.
To cancel your service:
Navigate to your Licensing and Usage > Support > .
Select Chat with Support or Email Support.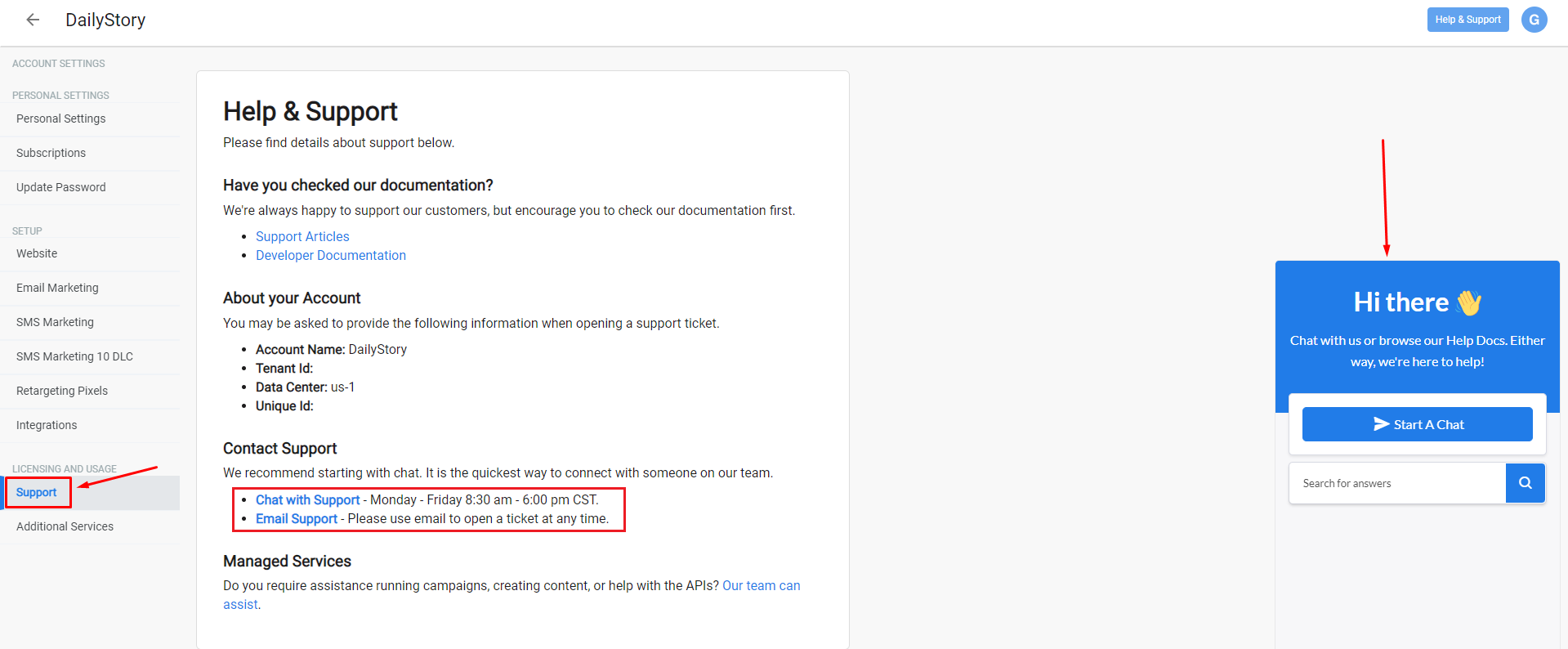 Let us know you would like to give your 30 Day Notice to close your account.
Be sure to let us know your Account Name.
If you don't mind sharing, we'd also love to know what we could have done better.
Once we recieve your notice, we will make the update to your account and you will receive an email that looks like the below, confirming your cancellation. Remember, you will still have 30 days to export all of your data.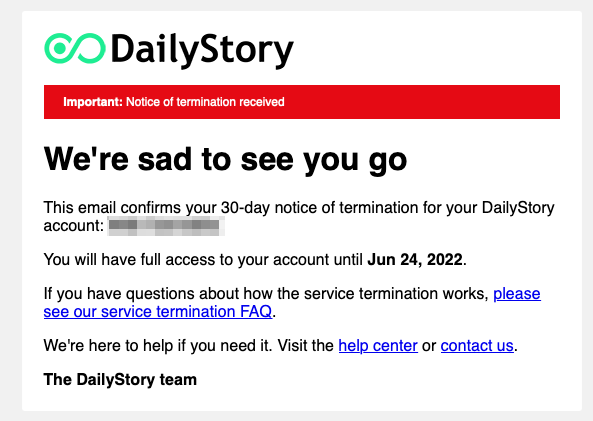 Finally, your data is your data! We will not keep it from you, use it or sell it and it will permanately be deleted from our system in 90 days. We only hold onto for another 60 days in case it's needed legally or you decide to come back to the platform. Read out terms of service signed at account signup.
Below are some frequently asked questions about the cancellation process.
What is the notice period for cancellation?
For customers on a month-to-month subscription (most common) we require a 30-day notice period. Once the notice is received your account service will terminate 30 days later. During these 30 days you continue to have full access to DailyStory.
Why is a notice period required?
Due to the way DailyStory billing and service works for month-to-month customers we require a notice period.
While your billing period corresponds with the date when you signed up, the service itself is reset on a monthly basis.
For example, if you sign up on April 19th you immediately receive all license benefits and credits on the 19th. Those same benefits and credits reset again on May 1st.
Unfortunately due to abuse we began requiring a notice period in our terms of service (agreed to upon signing up for the service).
What happens to my data?
Once you lose access to the service you will no longer be able to access your data. However, we will maintain your data for 90 days post-termination.
Do you offer refunds?
No, unfortunately, we do not offer any refunds for any unused service.