Updated by Rob Howard
To see your plan usage, navigate to Account Settings > Usage: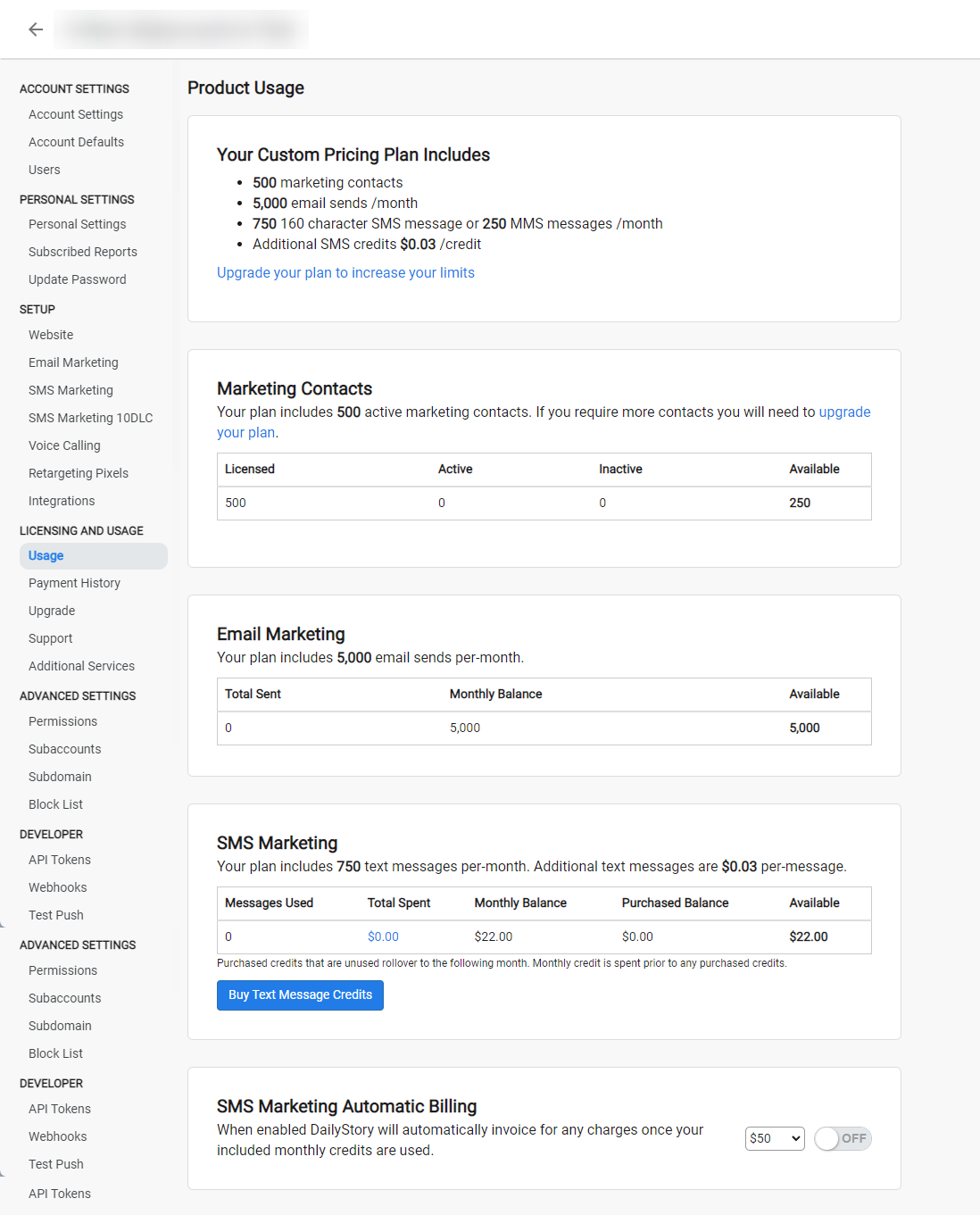 Plan Summary
The first section shows a summary of your plan:

Marketing Contacts
Marketing contact usage provides details regarding the plan limits around the number of active marketing contacts:
Licensed - The number of active contacts in your plan.
Active - the number of contacts counting towards your plan limit.
Inactive - the number of contacts that are inactive, but still count towards your active contacts. A contact that is messaged is considered active for 60 days past their last message date (regardless if they are marked as inactive).
Available - the room in your plan for additional active contacts.

Email Marketing
Email marketing usage provides details regarding the plan limits around the number of emails/sends per-month:
Total Sent - total number of emails sent this month.
Monthly Balance - how many email sends/month are included in your plan.
Available - how many more emails can be sent in the current month without upgrading your plan.

SMS Marketing
SMS Marketing usage provides details regarding plan limits and purchased credits for the number of text message credits per-month. Please see understanding text message costs for additional details:
Messages Used - the number of messages used in the current month.
Total Spent - how much was spent this month on text messages. This includes the monthly credits included with your account (based on your plan) as well as any of your purchased balance that was spent.
Monthly Balance - the value/credit included with your plan, e.g. 750 text message credits at $0.03/credit is $22.50.
Purchased Balance - any additional text message credits you have purchased.
Available - the monthly balance plus the purchased balance.

You can purchase additional credits in increments of 500 to 1000 for $5 to $10. Any purchased credits that are unused for the month will roll over to the next month. You never lose them!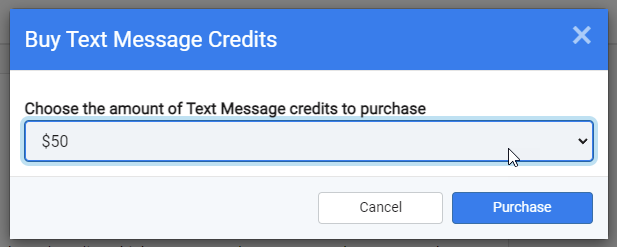 Any used monthly credits that are part of your subscription plan do not roll over.
SMS Marketing Automation Billing
When sending text messages DailyStory will only send your licensed number of messages. For example, if you schedule a message to 5,000 people but only have 4,500 text message credits only 4,500 messages are sent.
If you enable automatic billing, DailyStory will send all your messages even if your balance goes negative. You will then be automatically billed the current balance and your account will be topped off by the selected amount, e.g. $50.
Using the example above with a $0.02 text message rate DailyStory would send all 5,000 messages. But, the account would have a due balance of $0.02 * 500 = $10. When automatic billing runs your credit card would be charged $10 for the balance due and topped up $50 for a total of $60.