Updated by Rob Howard
Text Messages sent from DailyStory support link click tracking (enabled by default). When enabled URLs included in text messages are shortened and a unique URL is sent to each recipient. DailyStory offers built in domains used for URL shorteners and will randomly select a domain to use for an outgoing text message.
For example, a URL such as:
https://www.dailystory.com/guides/sms-text-messaging-marketing-guide/
May be shortened to:
https://txts2.me/vv6a1aab
In this example txts2.me is a domain provided by DailyStory.
However, DailyStory also supports customers bringing their own domain for URL shortening. This is always recommended for customers sending high volumes of text messages that include URLs.
The main benefits is recipients see a URL they recognize from the brand the message is sent from.
Purchase Custom URL Shortener Domains
To add custom URL shortener domains, please purchase the number of domains you wish to add in DailyStory's Additional Services. For enterprise customers, please check with your account manager as this may be included in your plan: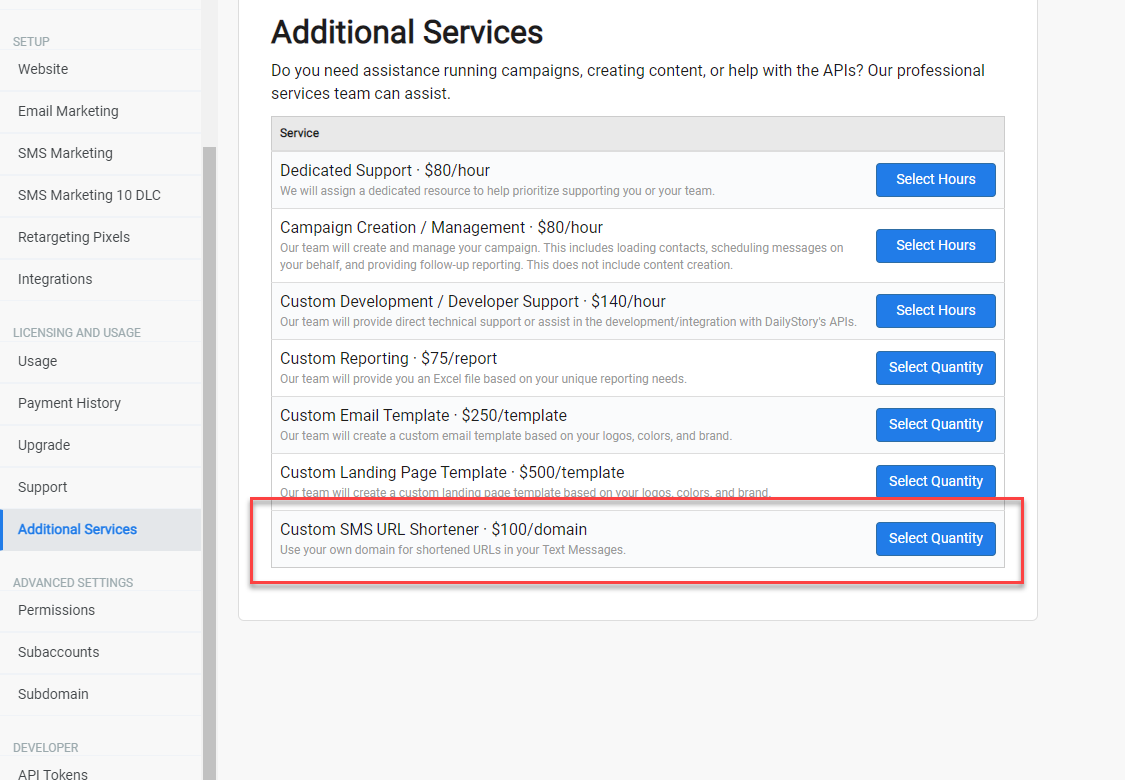 Note: this is not to purchase a domain name, the domain name must be one your already own.
This includes the cost to setup the custom domain as well as setting up a SSL certificate for your domain. Next, someone from the DailyStory team will contact you.
Recommended URL Shortener Domains
We recommend using your own domain along with a subdomain for your shortener. This will help ensure that when customers receive your text message it is from a domain they are familiar with.
For example, if your domain is indoorgolfers.com you could setup a subdomain such as txts.indoorgolfers.com. Links in your text messages would appear as:
https://txts.indoorgolfers.com/vv6a1aab
Instructions to Setup your Custom Domain
The instructions below detail how to make modifications to your DNS record. Please contact us if you need assistance.
Create an A record in your DNS
You will need to create an A record if you are mapping an entire domain. If you are using a subdomain, skip to step 2.
The A record maps an entire domain. Your A record should point to "52.165.220.33".
Create a CNAME record in your DNS
Create a CNAME in your DNS record that maps your domain or subdomain to point to "txts4me.azurewebsites.net".
Important: This CNAME record will not resolve until the DailyStory team approves the shortener and configures it with your account.
Verify the CNAME DNS entry
Visit https://mxtoolbox.com/CNAMELookup.aspx and enter your subdomain. It should resolve similar to below: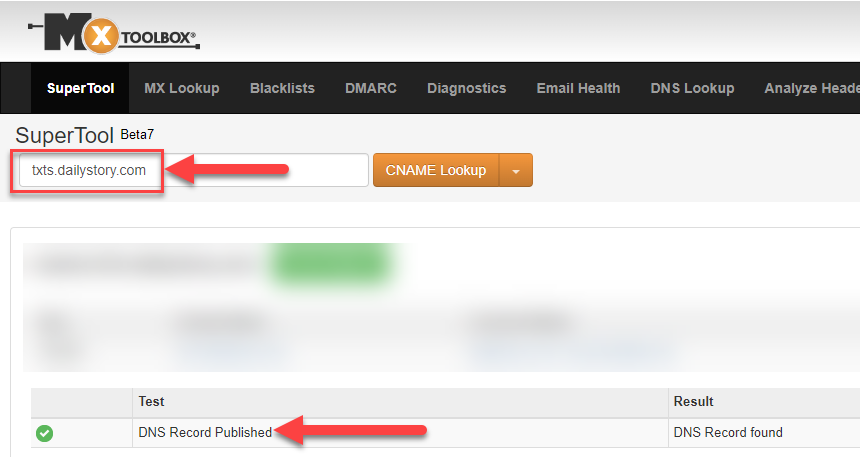 Contact DailyStory Support
Once your CNAME is verified in step 2, please contact DailyStory and we'll complete the setup.
Example: GoDaddy
If you use GoDaddy to manage your DNS, your records should look similar to this: