Free Plan (Freemium) Account Verification
Free Plan (Freemium) Account Verification
Updated by Rob Howard
The free plan offered by DailyStory allows you to use nearly all of the capabilities of the DailyStory platform for free, including sending text messages and emails.
However, prior to sending emails, text messages or using automations you will need to complete the account verification form.
Account Verification
After setting up a free plan, you will see the following at the top of your screen:

You may also encounter this message when attempting to send emails, text messages, or enable an automation:

Prior to using the free version of DailyStory, you will first need to submit information about your business for account verification. This information is required prior to using DailyStory and is designed to help prevent abuse.
Account Verification Form
The account verification form requires you to answer some basic questions about your business. The process is much quicker if you use a standard business email address that matches your website vs. an anonymous email address (such as an @gmail.com address).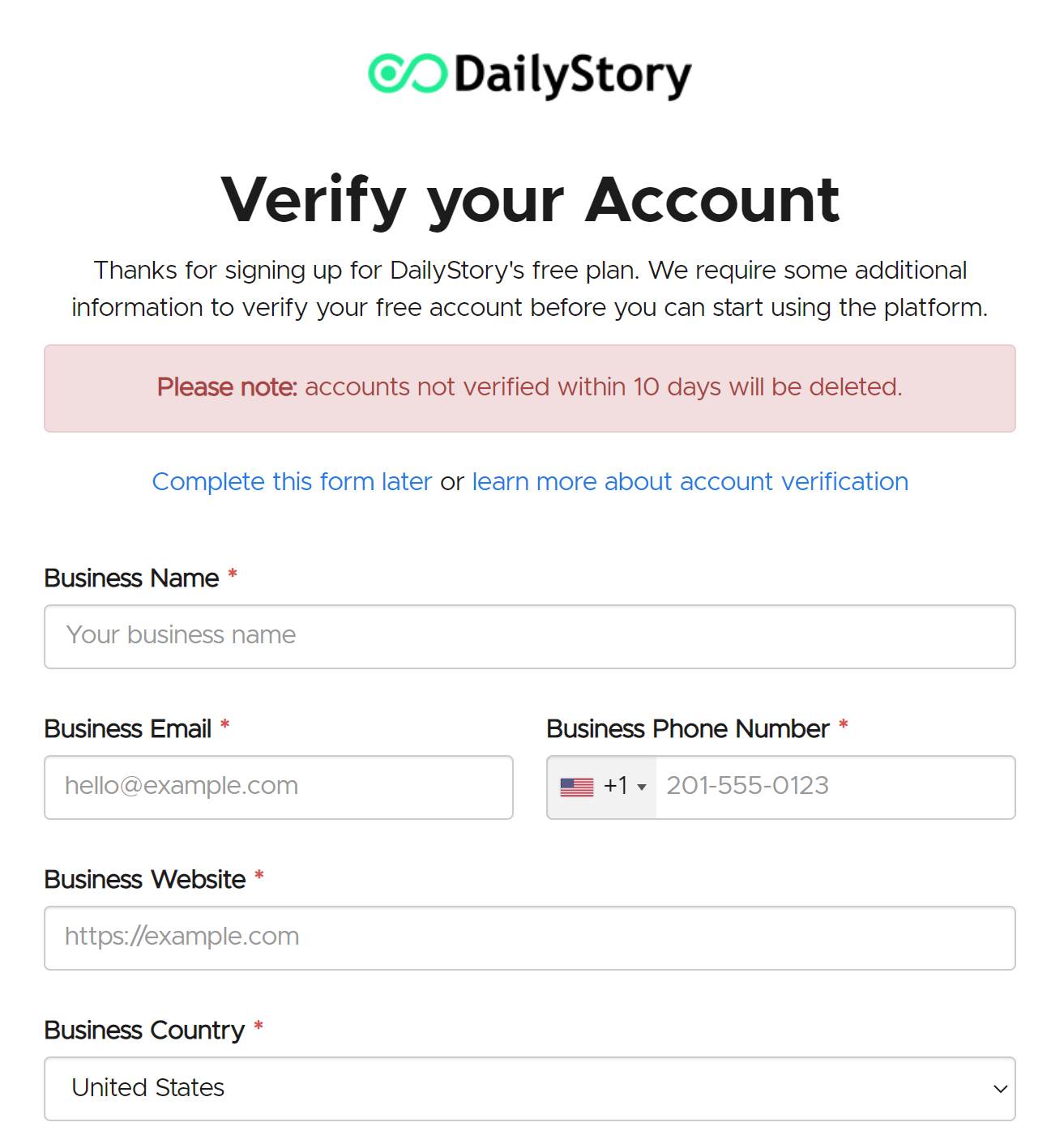 After completing the form and clicking submit, you will be redirected to a page confirming your submission and will also receive an email summarizing your submission.
Important: after submitting your verification information, your account remains unverified until reviewed by the DailyStory team.
Frequently Ask Questions
Below are some frequently asked questions about account verification.
Why is account verification required?
Unfortunately platforms such as DailyStory tend to be targets of abuse. Examples includes malicious actors setting up accounts and sending phishing emails. Our verification process is designed to help thwart this type of abuse.
Do paid plans require verification?
No, if you start with a paid plan, your account does not require verification.
Is my account immediately approved after submitting?
No, once your submission is received one of our customer success team members will review your submission. You will receive an email indicating your submission was accepted. You will receive subsequent emails either asking for additional detail or communicating the status of your submission: approved or denied.
How do I ensure my submission is approved?
If your submission includes information that is easily verifiable, your verification will be approved. For example:
The email address used to create your account matches your business website;
The phone number associated with your account is the one used for your business;
The address and country of your account matches the address and country you signed up with.
How is my information used?
Your business address and website are included in the footer of emails and are shared when customers text "HELP" back if you are using text message marketing. DailyStory will additionally use your information to verify the validity of your business.
Are all the fields required?
Yes, all the fields in the form are required and must be completed prior to submitting the form.
What if my country is not listed in the country drop down?
This likely means we don't offer our service in your country. Please contact us and we may be able to make an exception.
How long does it take for my verification to be complete?
The account verification process is typically complete within the same day that it is submitted.