Create or Edit a Tracking Link
Create or Edit a Tracking Link
Updated by Rob Howard
Creating a Tracking Link is simple. Navigate to Acquisition > Tracking Links.
To create a Tracking Link either:
Enter a URL and press return.
Click the + button.
Click + Create in the main Tracking Link menu.
The image below shows the first option:
Choosing any of the three options to create a Tracking Link will open up the Tracking Link editor.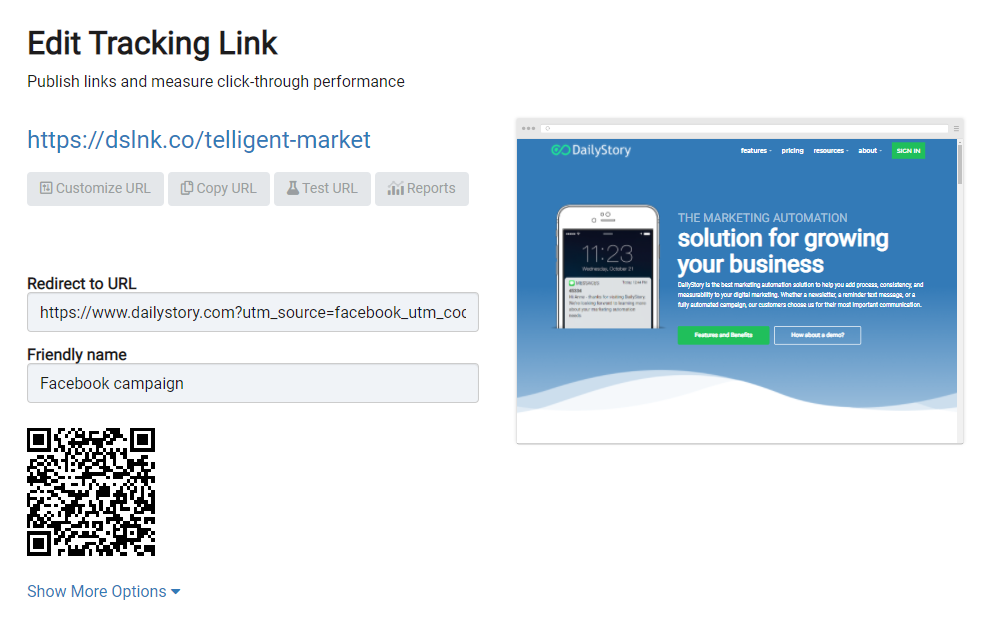 If the Tracking Link editor was opened from the + button or the + Create menu option, you will need to enter the Destination URL yourself.
DailyStory will attempt to automatically set the name of your Tracking Link to the title of the page you are linking to. But some pages don't have titles and you may need to set this yourself.
Clicking "Create" in the editor will generate the Tracking URL. The Tracking URL is what you publish or share. When people click your Tracking URL they will be redirected to the Destination URL.
Once the your Tracking Link is saved, the Tracking Link editor will switch from create to edit mode. In edit mode there are more options for how DailyStory manages your Tracking Link.
Edit a Tracking Link
The Tracking Link edit screen is similar to the create screen, but with a few additional options.
When you enter or change the Tracking URL, DailyStory will automatically fetch the URL set the Name of the Tracking Link to the title of the page and provide a preview of the page.
When editing your Tracking Link you may have seen the "More Options..." link. Clicking this will expand additional options you can use to configure your Tracking Link.