Setting up Text Message Marketing
Setting up Text Message Marketing
Updated by Rob Howard
Before sending your first text message, you first need to set up and configure DailyStory text message marketing. This requires agreeing to the terms of service and selecting your sending numbers.
Please review the below video tutorial, or keep scrolling for step-by-step instructions:
Enable Text Message Marketing
Navigate to Account Settings > SMS Marketing.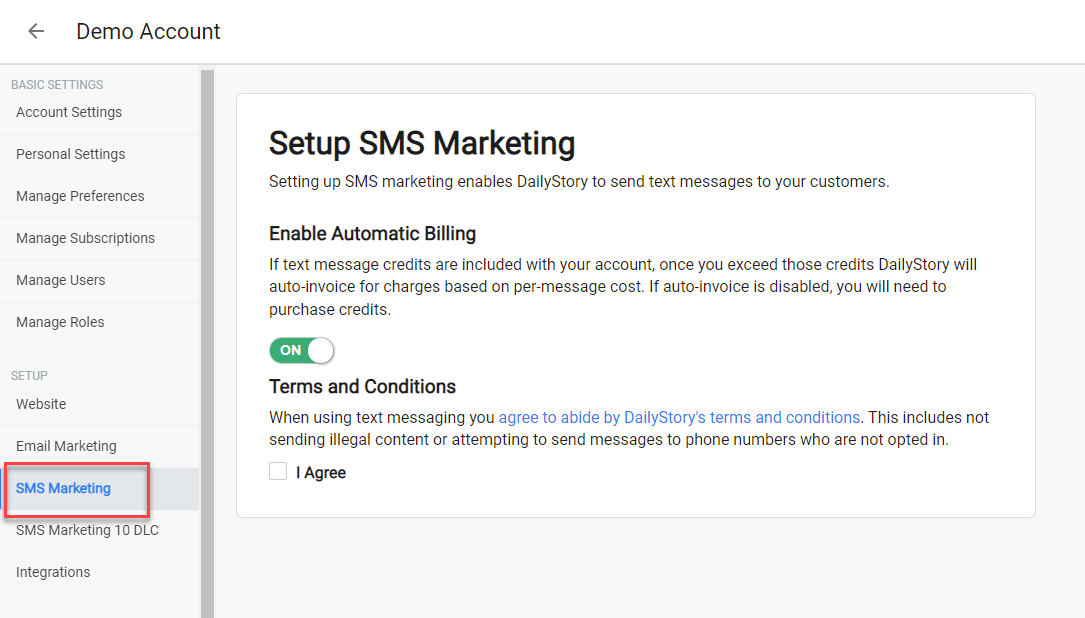 Configure Automatic Billing (recommended), and accept the Terms and Conditions. These are the same terms and conditions agreed to when you log into DailyStory.
Once the Agree checkbox is checked, a button is shown to move to the next step.
Manage or Purchase SMS/MMS Sending Numbers
Depending upon your plan type you are able to setup 1 or more sending numbers.
To manage existing numbers or purchase new SMS/MMS capable numbers, navigate to Setup > SMS Marketing
If you are on a free plan, have completed a 10DLC registration, or are sending on a tollfree or shortcode, you have the option to configure a single sending number that is both SMS and MMS capable: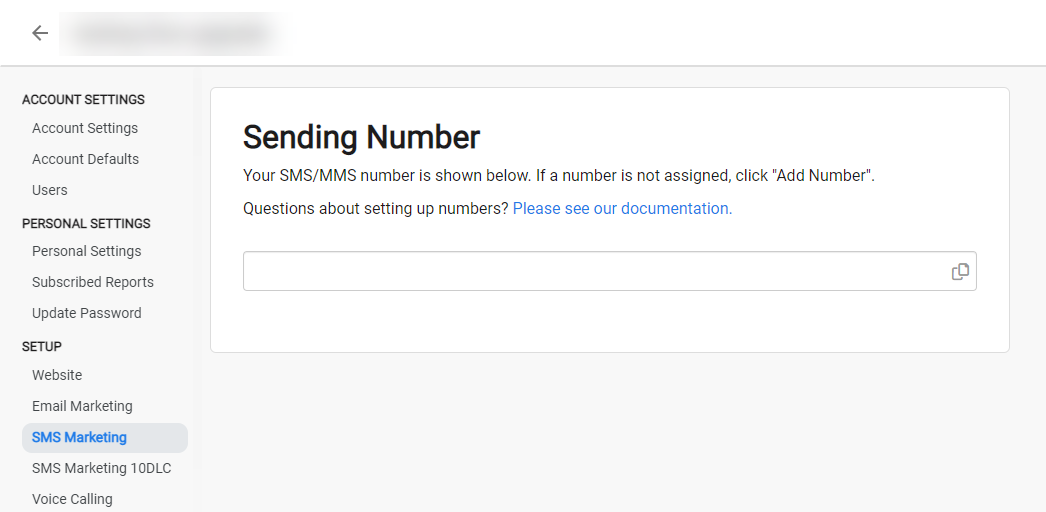 If you are a paid plan and have not submitted a 10DLC registration, you have the option to purchase multiple sending numbers: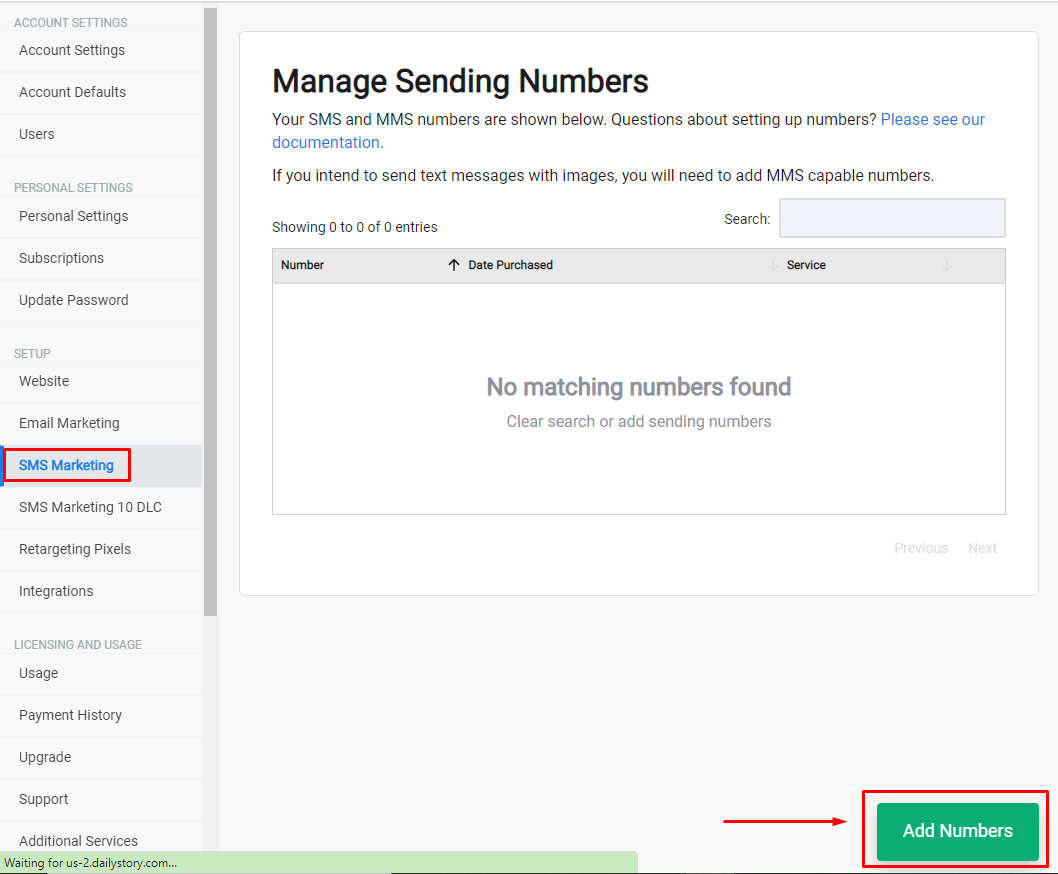 Here you will find a list of existing numbers associated with your account. These numbers are all capable of both sending and receiving text messages.
Important: If you plan to include images in your text messages (MMS), you will need to additionally add MMS-capable numbers to your account.
Number Pool
The numbers associated with your account are called your number pool. Ideally, you want 1 number for every 750-1,000 recipients. A campaign sending to 1,500 recipients would ideally have 2 sending numbers.
Once a number is associated with a recipient, that number is "sticky" to that recipient and all future messages to that recipient will be sent from the same number.
Ideally, numbers should also be in the same area code as the recipient.
Adding numbers to your number pool
To add a new number to your number pool, click the Add Numbers button. This will open a popup used to search for numbers.
For example, in the screenshot below, SMS numbers in the 972 area code were searched for, and 2 were selected: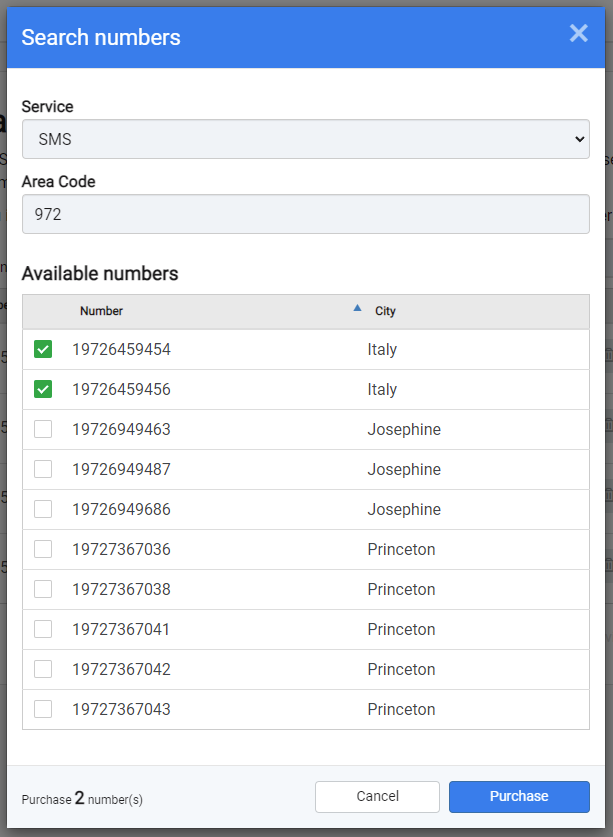 Important:
The quantity of numbers you are able to purchase is determined by your license. This information is found on the
Usage page
and is typically sized appropriately for your license
If you require additional numbers for your account, please contact us.
Removing numbers from your number pool
To remove a number from your number pool, click the Release button next to the number you want to remove. The number is removed immediately and cannot be recovered.
We strongly discourage rotating your numbers in your number pool. While this can be effective if you have poor delivery, a new number requires a warm-up period and will be completely new to your recipients too.
Frequently Asked Questions
Below are some frequently asked questions.
I can't find numbers for the area code I want
Purchasing numbers for popular area codes can be difficult. We recommend checking again later or purchasing an alternative area code. If you still are unable to find the right number, please contact us.
I want to purchase a toll-free number or shortcode
If you want to send on a toll-free number or shortcode, please contact us. These unique sending numbers require some additional steps (and cost) to set up.