Updated by Rob Howard
Similar to other features such as Email and Push Notifications, Text Messages are sent through schedules or automations.
There are 4 ways you can send emails to your contacts:
Schedule a text message
Send a published text message to a contact
Compose and send a single text message
Send as part of an automation
Schedule a Text Message
Scheduling a text message is the easiest way to send a text message to your contacts. When editing a text message click Schedule to open the message scheduler: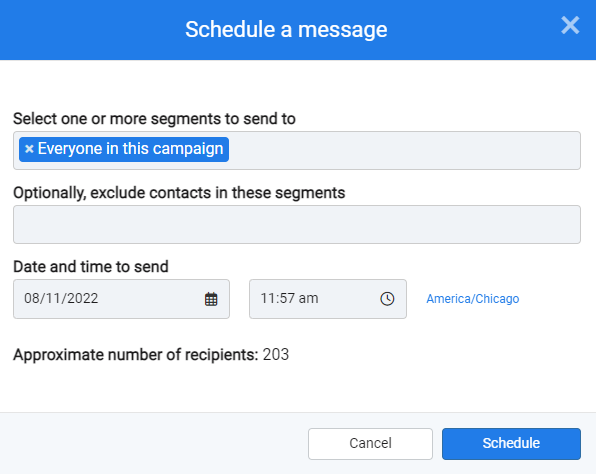 The message scheduler is the same for sending emails, text messages, push notifications, social media posts and more. 
The scheduling information is removed 90 days after the send date.
Send a Published Text Message to a Contact
To send a single text message to a contact without scheduling the email navigate to Content > Text Messages or Campaign > Assets and browse the list active text messages.
Click on the options menu of the text message to send:

Select Send Text Message.

This will open a popup. Select the contact to send the text message to and click send.
If the selected contact is not in the campaign they will be automatically added to the campaign.
Compose and Send a Single Text Message
See this article for sending a single text message. This is useful when you want to compose and send a single text message to an individual.
Send using automation
To send a Text Message using an automation. Add a Text Message send action and select the Text Message to send.