DailyStory Campaigns Guide
DailyStory Campaigns Guide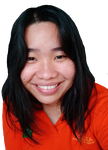 Updated by Richale Cabauatan
DailyStory's campaigns feature lets you market your product or promote retail events to specific groups of contacts, manage campaign assets, and follow up with leads with minimal maintenance work.
The campaigns feature goes hand-in-hand with the automation feature; that is, when you create a campaign, you can create a structured, automated flow that mobilizes DailyStory to do all the campaign's "legwork" for you once you activate it—from sending out scheduled emails or texts to responding and following up with leads.
Setting up a campaign involves following these procedures, in this order:
2. Creating campaign assets such as emails, texts, landing pages, pop-ups, etc.
3. Creating the campaign's automated flow.
To access the campaigns feature, select Campaigns on the navigation bar or select the Campaigns button on your DailyStory homepage.
Five Campaign Components
A campaign has five components: Home, Leads, Assets, Scheduler, and Autopilot. These components enable you to build, manage, and automate a campaign. These components are available as tabs of each campaign.

Home—refers to the homepage of a campaign. The Home page displays the reports of the campaign, monitoring, and measuring your target audience's interaction with your campaign assets. See Reports and Dashboards Guide to learn more about what you see on the homepage

Leads—refers to the contacts assigned to the campaign. When a contact is added to a campaign, that contact becomes a lead of the campaign. In the Leads tab, you can find a list of the leads in the campaign, along with each lead's basic information, date of last activity or record update, and status. See Managing Campaign Leads to learn more.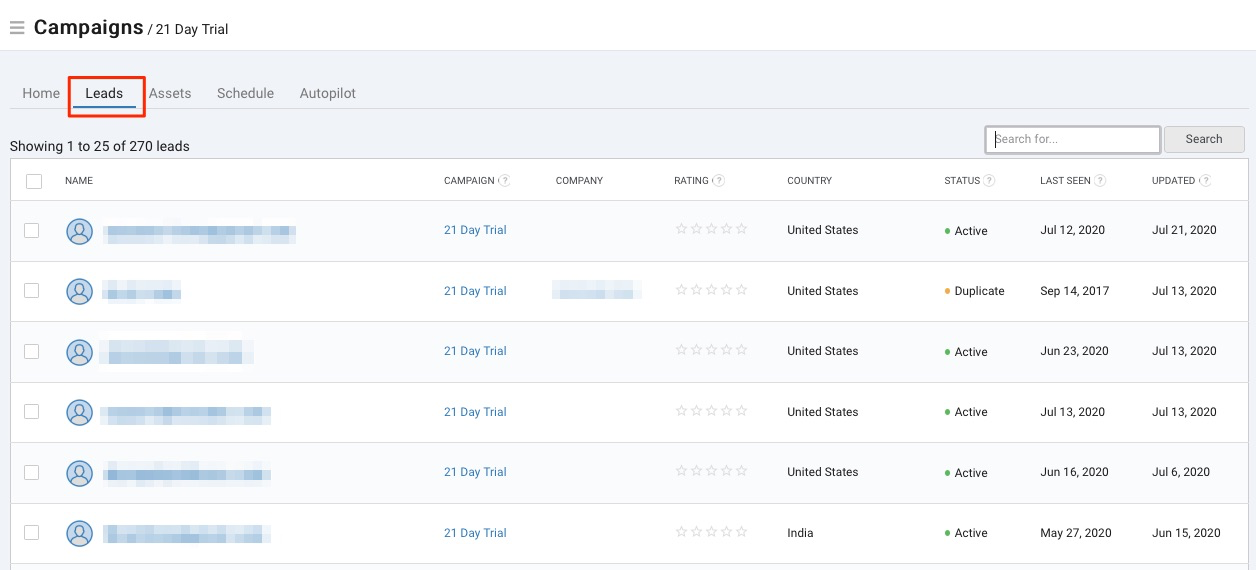 Assets—refer to the marketing pieces used for customer engagement such as emails, text messages, landing pages, pop-ups, and more. In the Assets tab of a campaign, you can find a complete list of the campaign's assets. See Managing campaign assets to learn more. See Managing Campaign Assets to learn more.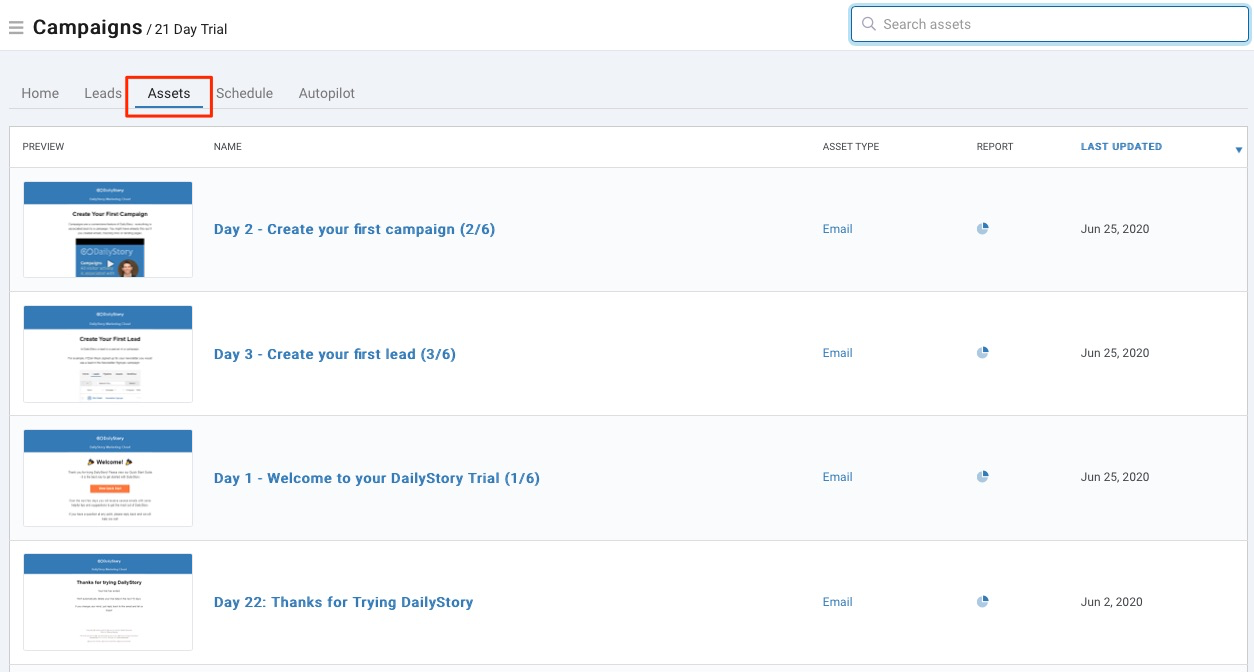 Schedule—displays the published and scheduled campaign assets on a calendar. You can view the calendar by day, week, or month. See Using Campaign Scheduler to learn more.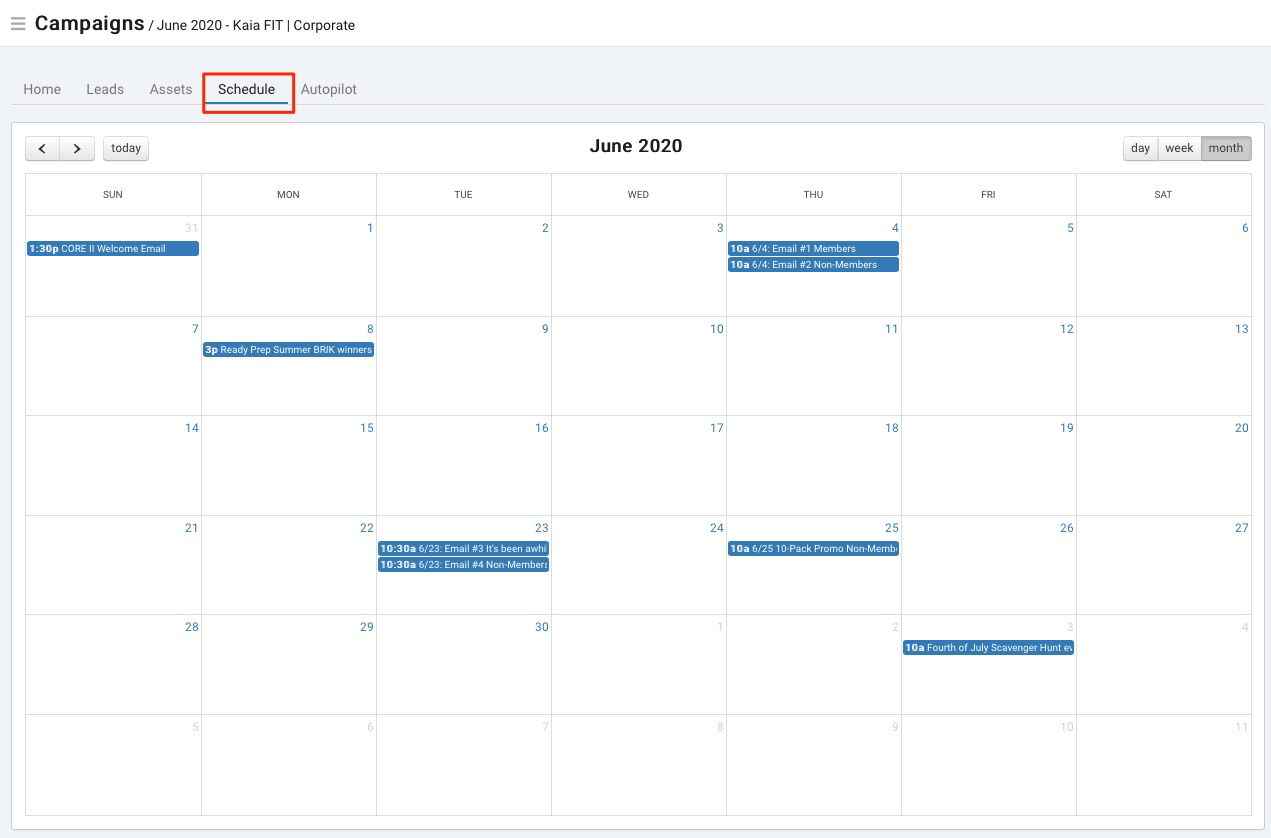 Autopilot—enables you to create multiple automated flows of campaign assets and lead–follow-up actions. The Autopilot tab displays a complete list of a campaign's automated flows. The Autopilot tab generates a report on each flow, measuring how many times the flow completed a run and its number of in-progress runs. The list also indicates if the flow is active and specifies the date of when it was last updated. See Creating Campaign Automations to learn more.

Resources to get you started