DailyStory SMS Marketing Guide
DailyStory SMS Marketing Guide
Updated by Rob Howard
Text Messages in DailyStory can be sent as an SMS (Short Message Service) or an MMS (Multimedia Message Service). A typical single SMS message is 160 characters or less while an MMS contains an image and should be kept to less than 150KB in size.
To send messages in DailyStory, it requires enabling SMS marketing.
Important:
 Unless included, use of Text Messaging will incur charges to your credit card associated with your DailyStory account. See 
Understanding Text Messaging costs 
for more detail.
Resources to help you get started with Text Messages
Tips for Text Messaging
The shorter the better
Make sure it's relevant
Make sure they know it's you
Use personalization (see more on built in personalization)
Include the option to opt-out
Be targeted with your audience
Be mindful of the timing
Keep images to 400px wide
Avoid using URLs and links
Accessing text messages
You can navigate to your text messages page by clicking on the SMS button on the homepage or from the home navigation menu Outbound > Text Messages. This page displays your text messages assigned to active campaigns.

Page Layout
Your text messages page will display all of your active text messages. You can access the Text Messages Menu (3 lines/hamburger menu), column sort, create a new text message, access report data, and access the Advanced Options Menu (3 dots) see what campaign the message is a part of.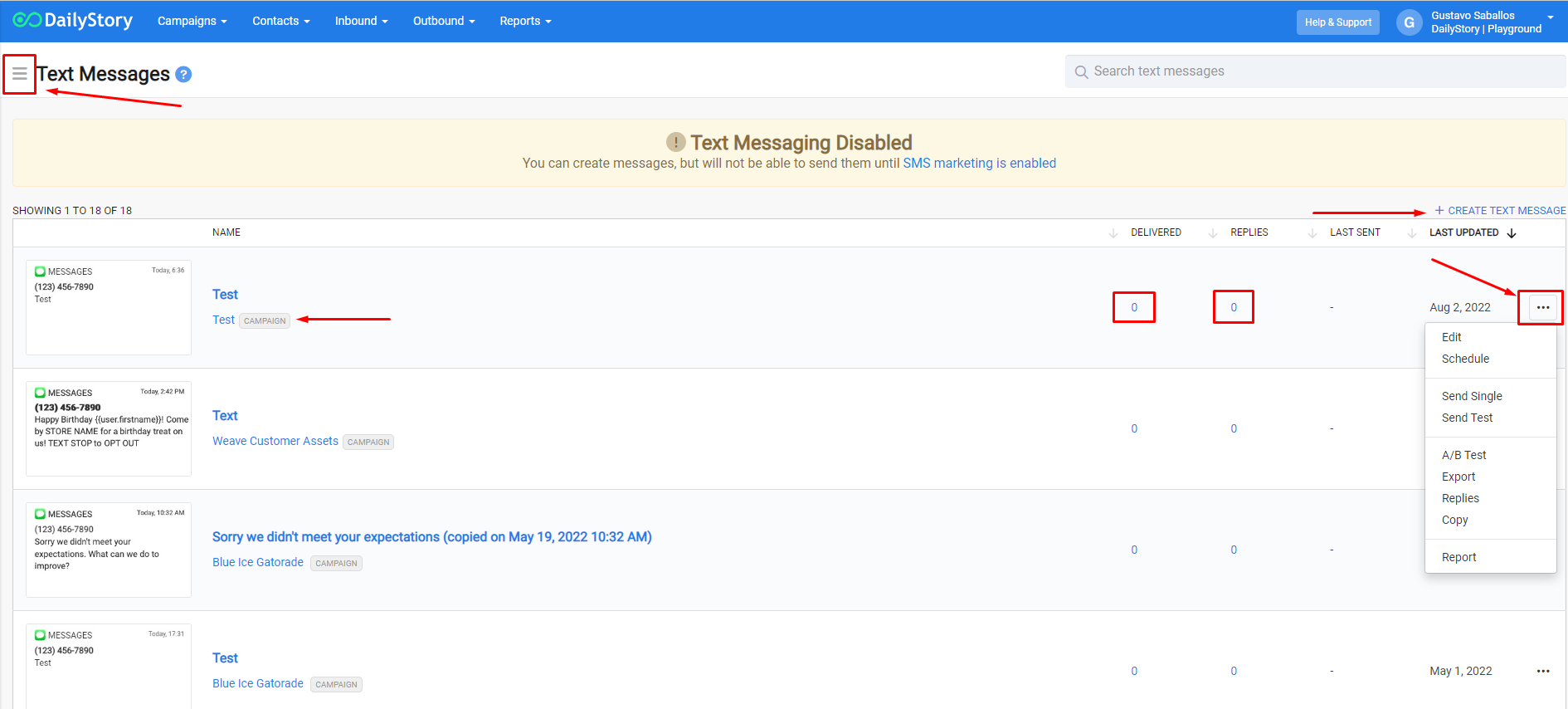 Text Messages Sub-Menu
| | |
| --- | --- |
| MENU ITEM | DESCRIPTION |
| + Create | Create a new text message |
| + Send Single | Send a text message to one contact |
| Active | List of active text messages being used in a campaign |
| Paused | List of text messages whose attached campaign has been paused |
| Archive | List of text messages whose attached campaign was archived |
| Trash | List of text messages deleted in the last 7 days |
| Keywords | Create keywords to use in text message campaigns, social media ads, etc. |
| Reports | Reports for all text messages |
| Help & Feedback | Opens pop-up window for help with Text Messages |
Related articles from our blog
Related guides
Related webinars