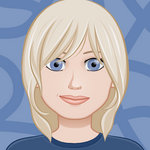 Updated by Christy Cook
Integrations allow you to sync data and run services from other software platforms into DailyStory.
For example, integrating with the fitness platform, Mindbody, allows fields such as last visit, memberships and more, to sync directly with DailyStory. Utilizing this data helps build segments, run automations and keep your data up to date!
Note:
You can also integrate with DailyStory using the DailyStory developer API. See our
DailyStory Developer's Guide
, or contact us directly for more advanced assistance.
To configure an integration with one of our partners, log in to your DailyStory account and navigate to your User Menu > Integrations.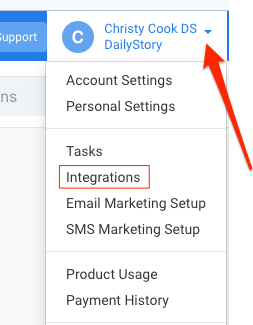 You can also find this section in your Account Settings men under SETUP > Integrations.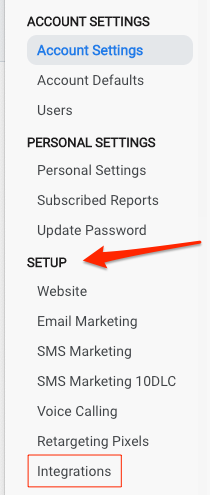 From the Integrations page, you can search by category or by name.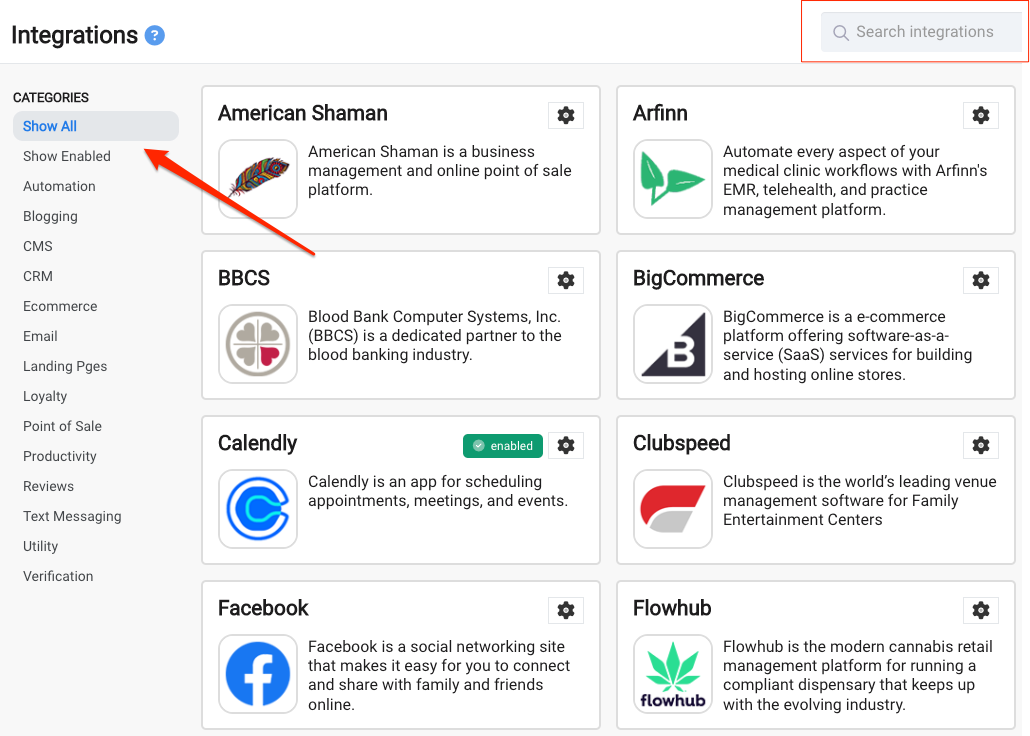 Current Integrations List
We are adding new integrations monthly, so please contiue to check back if you don't see anything on the list. If you would like to make a request or you would like information on becoming an integration partner,
please contact us
.
American Shaman
American Shaman Feathers is a custom business management and online point of sale platform for the American Shaman CBD franchise. Learn more about American Shaman integration.
Arfinn
Arfinn is a record management system for medical clinics. Automate every aspect of your medical clinic workflows with Arfinn's EMR, telehealth, and practice management platform. Learn more about Arfinn integration.
Blood Bank Computer Systems (BBCS)
Blood Bank Computer Systems, Inc. (BBCS) is a dedicated partner in the blood banking industry. Learn more about BBCS integration.
BigCommerce
BigCommerce is a e-commerce platform offering software-as-a-service (SaaS) services for building and hosting online stores. Learn more about BigCommerce integration.
Calendly
Calendly is an app for scheduling appointments, meetings, and events. Learn more about Calendly integration.
Clubspeed
Clubspeed is the world's leading venue management software for Family Entertainment Centers. Learn more about Clubspeed integration.
Facebook
Facebook is a social networking site that makes it easy for you to connect and share with family and friends online.
Flowhub
Flowhub is the modern cannabis retail management platform for running a compliant dispensary that keeps up with the evolving industry. Learn more about Flowhub integration.
Google Analytics
Google Analytics is a web analytics service offered by Google that tracks and reports website traffic. Learn more about Google Analytics integration.
Google APIs
Google APIs enable integration with Google services, such as geocoding used in distance-based searches. Add your Google API keys to take advantage of these powerful features.
Google reCPATCHA
Google reCAPTCHA is a free service that protects your website from spam and abuse by adding a simple test. reCAPTCHA is available on DailyStory forms. Learn more about Google reCAPTCHA integration.
Gorgias
Gorgias enables merchants to manage their customer service channels in a unified platform. Learn more about Gorgias integration.
Instamojo
Instamojo is India's simplest online selling platform. Learn more about Instamojo integration.
Klvaiyo
Klaviyo is a marketing automation platform. Learn more about Klaviyo integration.
Konnektive
Konnektive is a customer transaction and campaign-management platform. Learn more about Konnektive integration.
Lightspeed C-Series
Lightspeed C-Series is an e-commerce point-of-sale solution. Learn more about Lightspeed C-Series integration.
Lightspeed R-Series
Lightspeed R-Series is a retail point-of-sale solution. Learn more about Lightspeed R-Series Integration.
Magento
Magento is a platform with built-in PHP, which helps programmers create eCommerce websites. Learn more about Magento integration.
Mailfloss
Mailfloss is a bulk email verification service built for busy businesses. Learn more about Mailfloss integration.
Mailgun
Mailgun is an email platform used for sending transactional emails. Learn more about Mailgun integration.
Mindbody
Mindbody is a business management and online scheduling platform for health and wellness businesses. Learn more about Mindbody integration.
Neverbounce
NeverBounce is an email verification and email cleansing service. Learn more about Neverbounce integration.
Plivo
Plivo is an enterprise-grade communications platform with premium carrier network connectivity for messaging and voice calls. Learn more about Plivo integration.
RhinoFit
RhinoFit is a feature-packed and easy-to-use member management platform designed for all types of fitness business models, such as gyms, dojos, boot camps, CrossFit and personal trainers. Learn more about RhinoFit integration.
Salesforce
Salesforce is a sales-automation platform. Learn more about Salesforce integration.
Shopify
Shopify is subscription-based software that allows anyone to set up an online store and sell their products. Learn more about Shopify integration.
Slack
Slack is a messaging app for businesses that connects people to the information they need. Learn more about Slack integration.
Square
Square Online is a robust platform that covers your website, the items you sell online, online order fulfillment, and much more. Learn more about Square integration.
Twilio
Twilio is a cloud communications platform for sending SMS messages. Learn more about Twilio integration.
Verint Community
Verint is an online community platform. Learn more about Verint Community integration.
WooCommerce
WooCommerce is an open-source e-commerce plugin for WordPress. It is designed for small to large-sized online merchants using WordPress. Learn more about WooCommerce integration.
WordPress
The DailyStory WordPress integration is simple to set up and easy to use. The integration makes use of a  DailyStory plugin for WordPress. Just install the plugin, and you'll be ready to use the integration. Learn more about WordPress integration.
Yotpo
Yotpo is an e-commerce marketing platform with the most advanced solutions for customer reviews, visual marketing, loyalty, referrals and SMS marketing. Learn more about Yotpo integration.
Zapier
Zapier is an automation platform that makes it easy to connect your favorite applications to DailyStory. Our Zapier integration is in private beta. Please contact us if you are interested in using it. Learn more about Zapier integration.
Zoho Bigin
Zoho Bigin CRM is a CRM used to convert more leads, engage with customers, and grow revenue. Learn more about Zoho Bigin integration.
Don't see an integration you need on our list? We're always interested in expanding our integrations.
Please contact us
.